Dr. Eugen Sorin NEGRUT, Veterinarian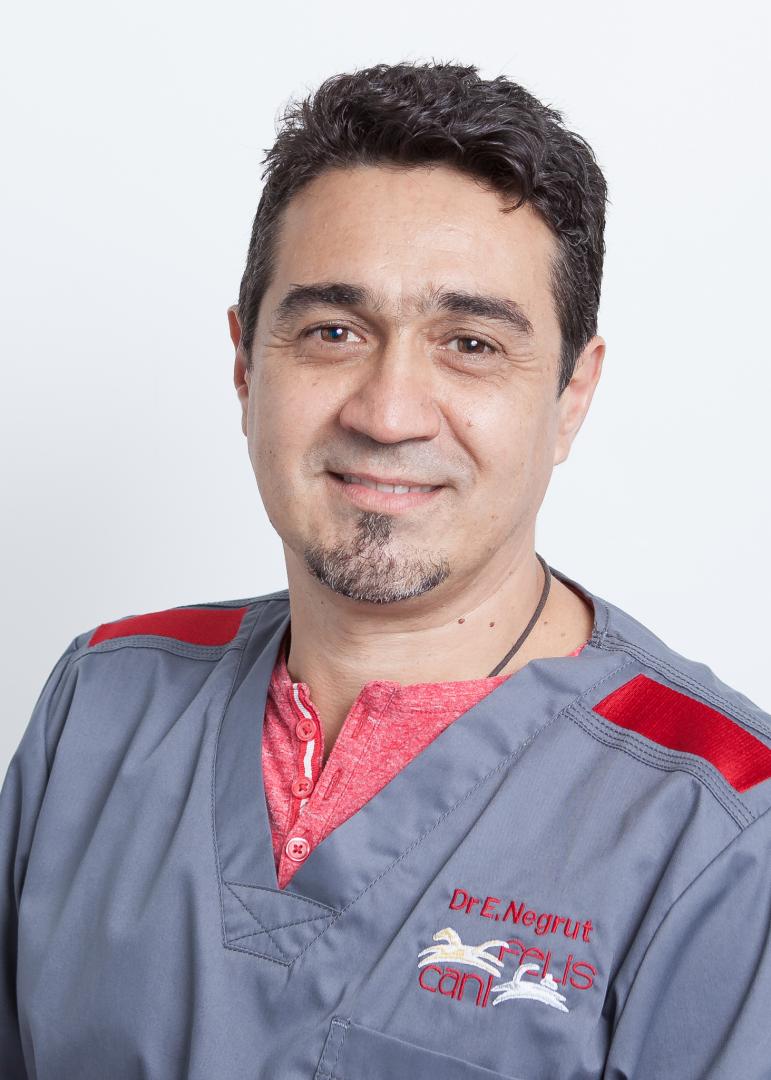 Graduate from Universitatea de Medicina Veterinara Timisoara (Romania) in 1997, Dr. Negrut moved to Quebec in 1999 and obtained his dipoma of veterinary medicine at the Université de Montréal in 2004.
Ever since he started working for Cani-Felis, he has shown particular aptitudes for surgery and dentistery, is interested in feline and canine geriatrics. In May of 2004 that Dr. Negrut became associated with the enterprise which keeps on growing thanks to a trustworthy and satisfied clientele.
Attracted by philosophy ancient history, Dr Negrut is great with psychology, communication and has a good sense of humor during his consultations. He comes from a mountainous region so he loves trekking with his family, and also likes yachting, the art of sculpting, and has an interest in wildlife and zoology in all its diversity.
Dr. Catherine VERREAULT, Veterinarian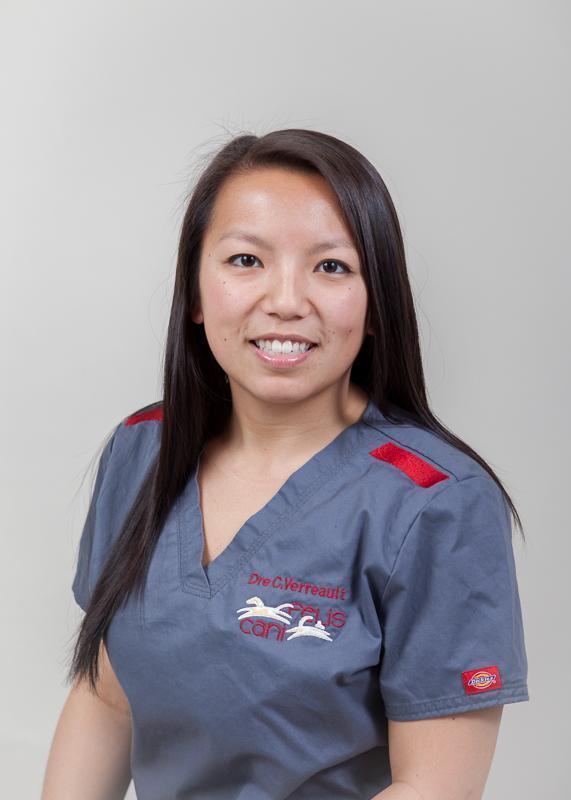 Dr Catherine Verreault grew-up in St-Hubert and graduated from the Faculté de Médecine Vétérinaire de St-Hyacinthe in 2013. She joined our team with the fierce determination and passion to heal our ''Furry Friends''.
Her passion are Internal Medicine: particularly feline medicine and general surgery.
In her free time, Dr Verreault enjoys literature, movies, playing the piano, puzzles, enigmas and Sudoku. Playing with Mr .Valium, her cat (who was once the clinic's mascot), jogging and gymnastics.
Véronique SÉGUIN, Animal health technician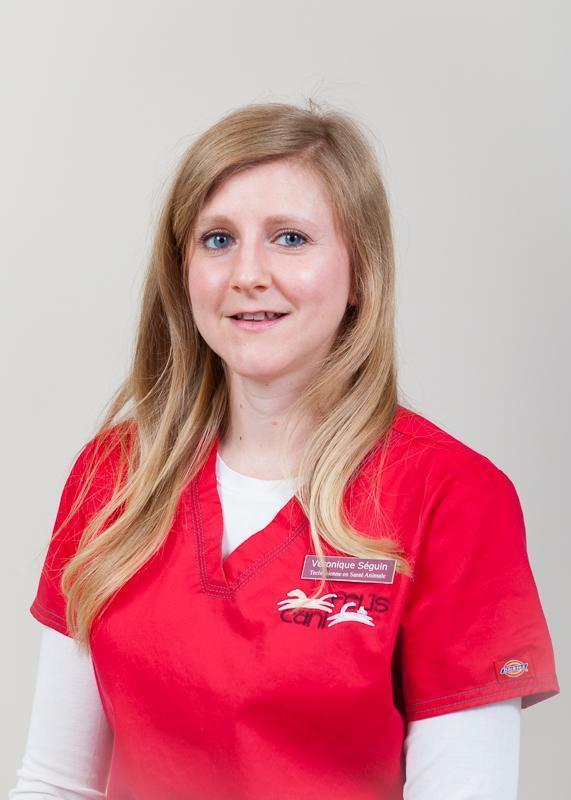 Graduate from Collège Lionel Groulx de Ste-Thérèse in 2005, Véronique first started working for the SPCA of Montréal, where she mostly treated cats infected with Rhinotracheitis.
Very close to her family, a ''family practice'' was exactly what she was looking for, and Véronique joined the Cani-Felis family in 2006.
Véronique is a ''multi-tasker tech.'': reception, consultation, surgical tech., intensive-care-technician: she loves change and especially to try everything.
Owner of two poodles: Rosie and Bigoudie she finds perfect harmony! her Ying and Yang!-one is black, one is white, one is small and the other one is large.
After a hard day of work, she finds refuge at home surrounded by her boyfriend and two dogs.
Outdoor activities, renovations and time with family occupies her free time.
Contact us directly for a quick appointment.
Alexis LEBLANC, Animal health technician
Right after her graduation from Collège Laflèche de Trois-Rivières, in 2010, Alexis joined the Cani-Felis team. After looking at our website, Alexis decided that Canis-Felis was a place she would appreciate to be a technician at, because it demonstrated compassion and love towards animals and their owners.
An artist at heart, she handcrafts and is passionate for the performing Arts. She is not afraid to take action, as she straddles her bike or straps on her roller blades.
A natural comedian, who is glad to put her humor to service for the staff. She recently discovered her talent for the culinary arts, (but no one has offered to try her flat sandwich!)
At the end of a long day, her pug Foreman and her two cats: M. Miagi and Stewie are frantic until her arrival.
Véronique VINCENT, Animal health technician
In May 2013, Veronique finished her DEC in Animal health technologies at the CEGEP de St-Hyacinthe. She joined our team as a student technician in 2010. In her quest to being a better technician, she continued her education in Animal Behavior with Jacinthe Bouchard. What she enjoys the most of her profession, is the contact with animals and the interaction with clients, but she also apreciates assisting in anesthesia and surgery.
For a decade, Veronique pursued a swimming carrier at the National level. Mother of an adorable set of twins, Thomas and Laurie, whom she is crazy about! In her free time (when she has some left) she enjoys going to the movies, cuddling her cats and her latest adoptee: Sheperd Caucase named Elie.
Isabelle BROUSSEAU, Animal health technician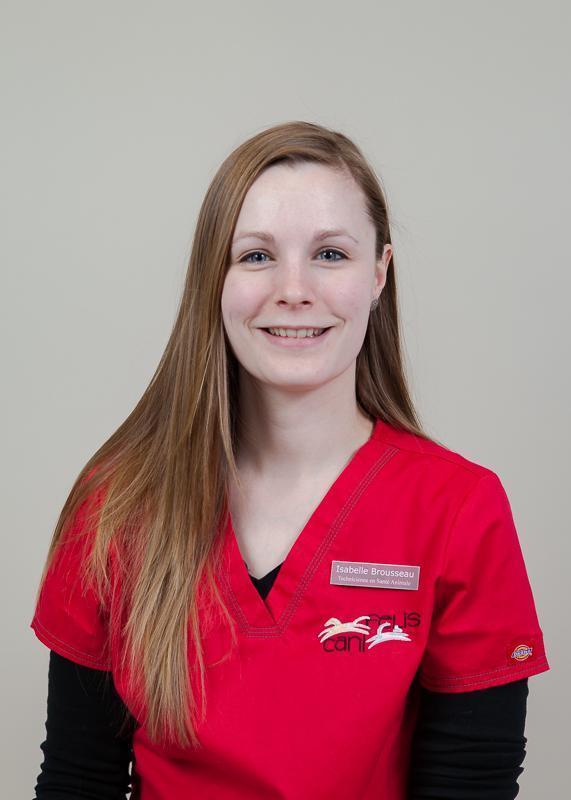 Graduated from Sherbrooke College- CEGEP in 2013, from the Animal Health Technology department, Isabelle started at SPA where she devoted her time to abandoned pets seeking a second chance in life. After the SPA, Isabelle joined the Cani-Felis family.
Born and raised in Abitibi, the outdoors is were Isabelle loves to be! Not afraid of cold winters, she take pleasure in long walks through the forest with her dog Peluche. 

 Considered a ''Super Tech'' her determination and efficiency completes perfectly our team of technicians. 
Myriam LEVESQUE, Animal health technician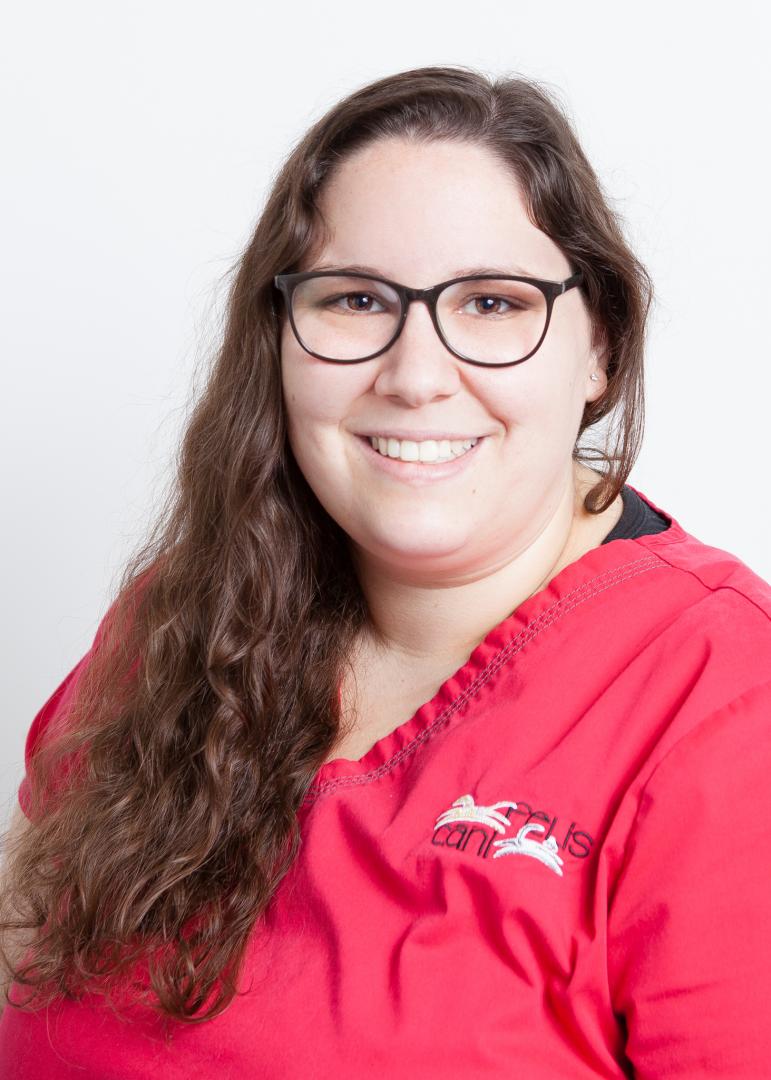 Graduated in 2014, from the St-Hyacinthe College in Animal Health, Myriam has always dreamed of working with animals! At the tender age of ten, Myriam already knew she was going to be an Animal Health Technician.
Myriam particularly affectionates the contact with client and their pets, she also has a soft spot for surgery and dentistery.She is very caring and often anticipates the needs of animals, she loves to spoil them!
Myriam is a busy lady! Owner of 2 dogs:Lady the Great Dane and Hera the Corgi cross along with a bird, two rats and a large aquarium with many fish (whom have all a name!). She enjoys cooking, reading, needlework and knitting.
Simone DUBOIS, Animal health technician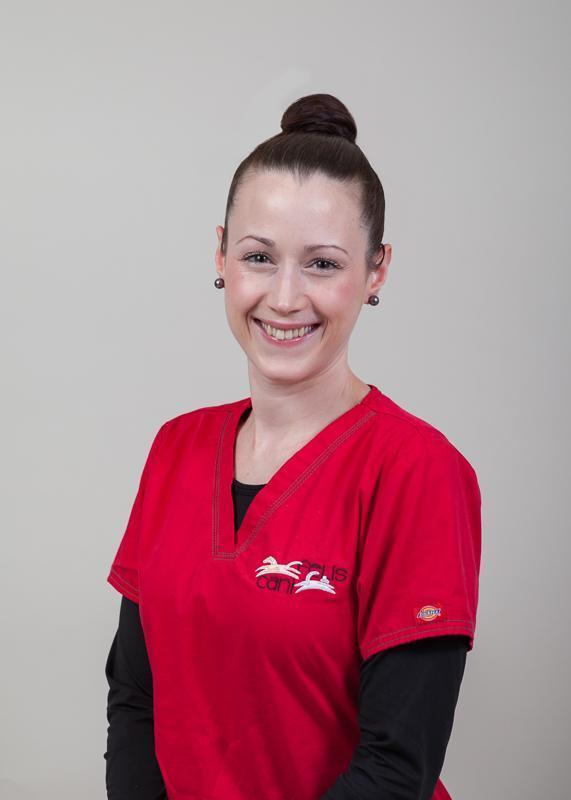 Since she was a child, Simone's parents knew she would pursue a profession with animals, she would imitate the sounds of many animals!
Before becoming an Animal Health Technician, Simone trained as Kennel hand and an assistant-Animal Health Technician at the most recognized emergency centers.
End of 2015, she joins the Cani-Felis Hospital team:'' I'm coming back to the basics'' proclaims Simone.
Owner of rescued dogs and "godmother'' of numerous pets, Simone continues to impress us with her warm and caring approach and dedicated passion for applied veterinary medicine.
Myriam PRATTE, Animal health technician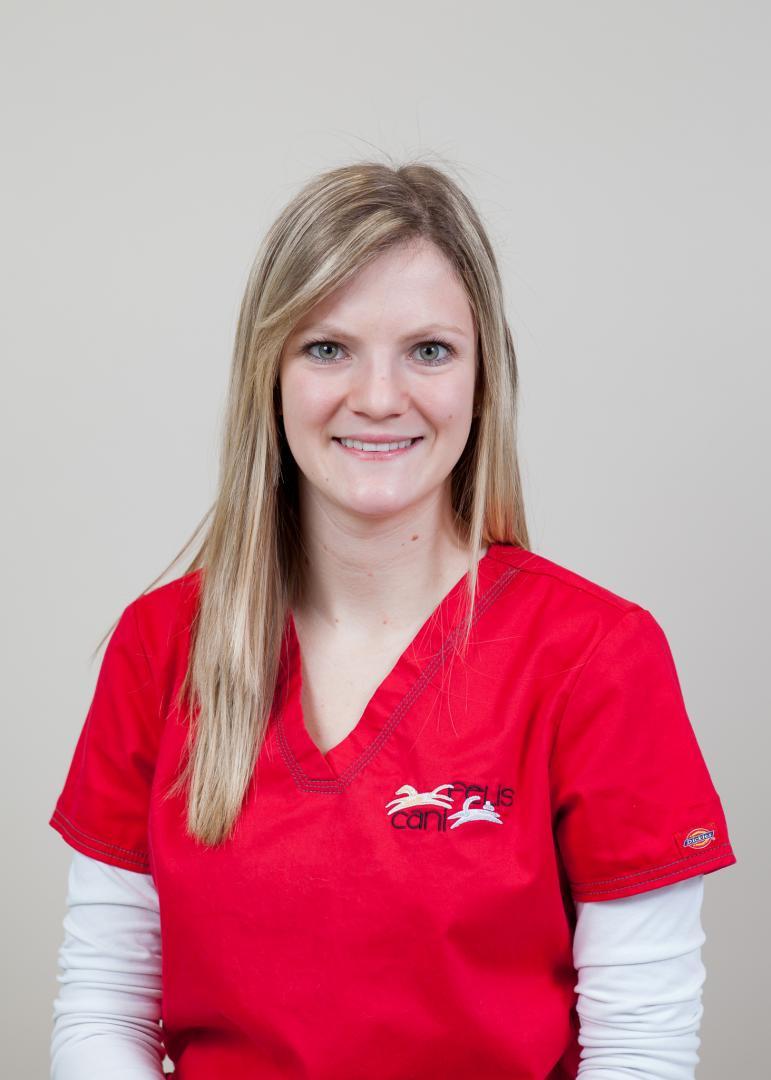 In 2014, Myriam joined the Cani-Felis team as an aid-technician. She went on to obtain her diploma as an Animal Health Technician from the Saint-Hyacinthe Cegep in 2015. Full of ambition and passionate about animals and medecine, she wishes to pursue her studies in Veterinary Medicine.
She is the proud owner of a dog, a cat, and a rabbit. In her free time, she loves to do yoga, danse classes, outdoor activities and spend time with her loved ones. Her passion for scuba diving allows her to travel the world.